Authors, Teachers, Students
If you have chapters, papers, notes, research, or writing of any kind, use Writer's Desk™ to organize and edit your files.

Includes a database for People, Places, Events, Notes, and Citations.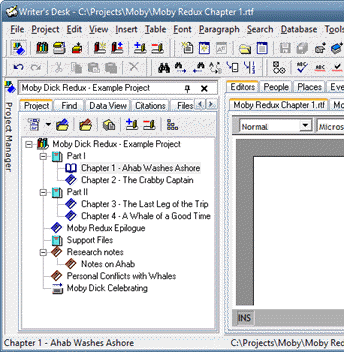 Combine related files you write into a project for easy management.
Projects can include support files, e.g., notes, research, references.
Load all project files into tabbed editors with a single click.
Move from file to file by clicking notebook tabs or a project's tree diagram.
Find or replace any word or phrase in all project files, opened or not.
Write chapters individually; then merge them into a single manuscript.
Copy or move all files in a project without using Windows File Explorer.
Zip all files in a project for backing up or emailing.
Think of the right word easily with Active Thesaurus™.
Eliminate needless business functions from your word editor.
Easily import Word® and WordPerfect® files.
Try this writing environment for creative writers!
Download Free Trial
Windows XP, Vista, 7, 8, 10
Many Files to Search
If you have many files that you search for information, use Finders Keepers™ to find words or phrases fast.
Find any word or phrase in any kind of file.
Find files even if the target word is misspelled.
4 ways to search: plain text, sound-alike, approximate, regular expression
Save time with very fast searches--even through 1000's of files.
Save search terms and results for future reference.
Index text files for instant search results.
Replace words in text files with automatic back-up.
Open found files with a double click.