CREDIT CARD CCV NUMBER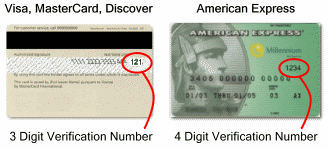 The CCV (Card Code Verification) is a number printed on the credit card in addition to the card number.
Visa, Mastercard, and Discover print the CCV number on the back of the card, as shown above.
American Express prints a 4-digit number on the front of the card.
Note:
Visa calls the CCV number CVV2 (Card Verification Code).
Mastercard calls the CCV number CVC2 (Card Validation Code).